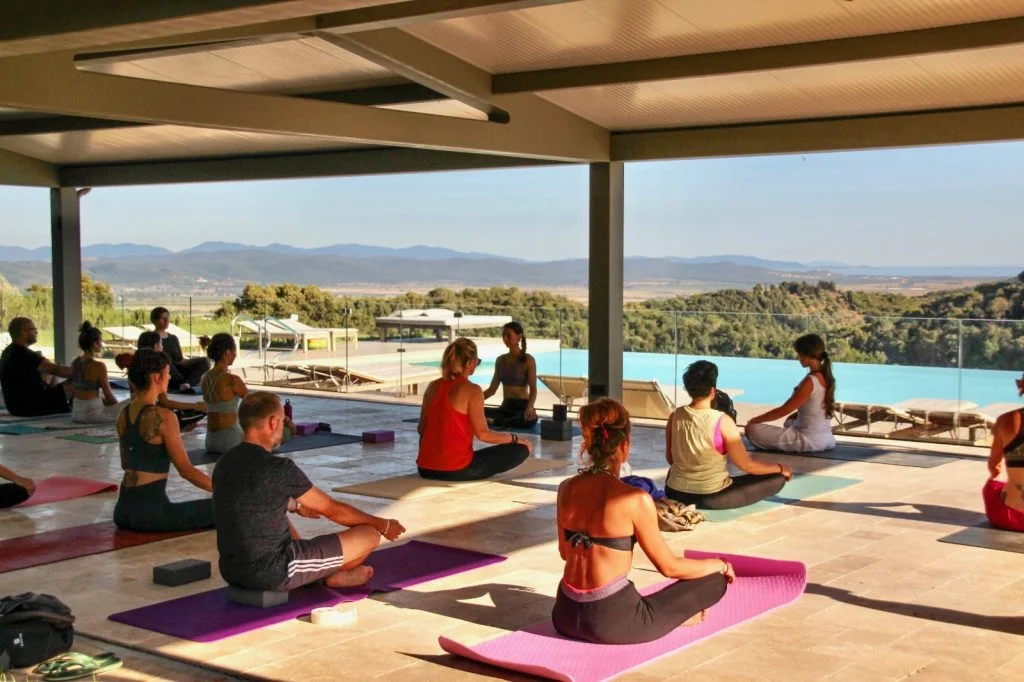 Join us for a relaxing and rejuvenating afternoon of Vinyasa Flow Yoga in the beautiful setting of Boschi di Montecalvi! Get ready to immerse yourself in nature and spend great time to body and mind well-being.
  Event Date: June 30

  Hour:
From 5:30 to 6:30 p.m.: Bath in the pool and light snack
From 6:45 to 8 p.m.: Vinyasa Flow Yoga session
Cost: €30 per person
During this event, you will have the opportunity to relax by the pool, enjoy a delicious light snack and then immerse yourself in the practice of Yoga Vinyasa Flow led by Gaya, an expert instructor. This will be the perfect opportunity to find inner balance, strengthen the body and improve flexibility with a flowing sequence of movements and mindful breathing.
Hurry up to reserve your place, as seats are limited and reservations are required. Contact 327 612 7718 to ensure you are part of this unique experience.
Don't miss the opportunity to experience pure harmony and connection with yourself and nature.
Get ready to leave your daily stress behind and recharge your energy in a peaceful and inspiring environment.We look forward to seeing you in Boschi di Montecalvi for an unforgettable afternoon of Yoga Vinyasa Flow with Gaya! Share this event with your friends who might be interested. Together, we will create an atmosphere of peace and serenity.
Namasté
Find inner peace surrounded by an idyllic landscape. Immerse yourself in the sounds of nature and enjoy a moment of absolute relaxation with our yoga sessions. During your stay, you can request a yoga session with Gaia, our certified expert.
Gaia will be happy to advise on the right practice for you. Whether you are an absolute beginner or an expert does not matter, our teacher will propose the best solution to make you live a unique experience and regenerate from head to toe!
"Yoga brings us back to the core of who we are, to the root. It teaches us how to face the difficulties and wonders of life with more compassion and loving strength."
Gaia Ceccarelli – Yoga Expert e Facilitator
Instagram @thebrunettegoestoyoga
Session Lengths 60, 75, or 90 minutes (on demand)

Language: English and Italian

One-to-one or small groups sessions (2-5 people)

We provide yoga mats but quantity is limited, we warmly suggest to bring your own mat for the practice
Our expert would be glad to plan more than one session for organized groups, depending on the length of the stay.